New coffee table
Yesterday, Sean and I were heading down to the rock gym down south and passed by one of our favorite furniture stores, Four Hands...not that we've ever bought anything from there before. It's a fun place to browse and look around, but not exactly in our budget. Well they had tents up and looked like they were having a warehouse sale, so we decided to check it out.
The prices were incredibly cheap on the sale stuff. Relative to how much they usually charge, that is. We ended up getting a coffee table to go with our Asian office theme. It's really cool, and was a bargain at $200. I love the pulls on the cabinet doors. It's not perfect, there are some marks on it and whatnot, but hell, it'll have stuff on it eventually.
New coffee table

We still have a lot to do with the office, but we're thinking of using a bench seat for the coffee table. One thing at a time, though.
It was pretty interesting getting the thing in Sean's car. The guys at Four Hands rigged it up so that the coffee table was in the back seat, both back doors opened ajar, and tied together with a rope and windows down. We drove 30 miles home that way...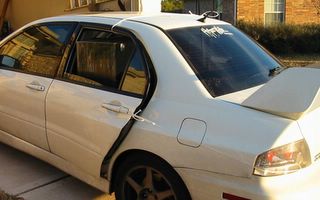 Sean's car with doors roped together

But needless to say, the new table is gorgeous and looks so fitting in our office :)