How many hair colours can I go through in a year?
That is the question...
I started off by bleaching my hair one time and doing orange in the front and purple the rest of my hair (Dec 04)..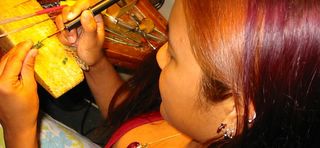 orange and purple hair

Once the color wore out, I bleached it again..not a pretty process. And I've learned that I don't look good blonde/orange-ish (later Dec 04)...
So I tried being a firey redhead (Feb 05)...
My hair was totally fried and growing out, so I decided to chop it all off (Mar 05)...
The color was fading and my roots were quickly growing out...pink and black..well, that was popular in the 80's and those colors are (were) back (May 05)...
To have some semblage of normalcy before I go to Africa, I've decided to dye my hair black (today)...
What on earth have I done to my hair? I can't wait for it to all grow out again and be healthy. It was fun, though. Too bad my hair won't take on blue...