Flashback...Ecuador
Chugchilan, Ecuador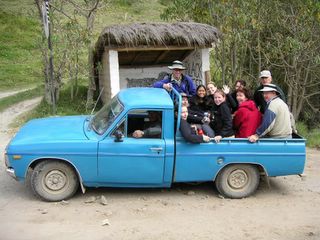 How many gringos can you pack in the bed of the truck?

July 5, 2004
A group of 10 of us at the
Black Sheep Inn
decided that we were going to do the Laguna Quilotoa hike. On the trip was the family from Montreal: Patrick, Marie, Louis, Ophelie, and Emilie; Jen and Tony; a couple from Quebec City - Serge and Dominique, and me.
We all stuffed into the bed of a small pick up truck..it was a tight squeeze! The truck brought us to another truck that would take 5 of us. Since the family was already 5 people, we let them have the pick up truck.
The rest of us got on a truck used to haul stuff. It had wooden sides. We all stood up during the ride, and it was one hell of a bumpy ride!! First of all, the driver had trouble starting the truck. He would break really hard at times, so we had to hang on for dear life! The road was pretty rough and dusty as well. Not to mention the incessantly winding roads with steep sheer cliff dropoffs...
We got to Laguna Quilotoa all in one piece, everyone covered in brown dust. The laguna is beautiful. It´s at 12,500 ft, and it´s a half day's hike back to town...
Read the full story here