What was going on in Austin yesterday?
Normal everyday life.
When I left work yesterday evening, it was a bit windy around central Austin (Hyde Park area). Sunny skys, hot, a few clouds. On my way home, however, I was travelling northbound on Lamar and encountered a convoy of about 20 ambulances from Jefferson, Oldham, and Hardin counties. Along with the convoy was a big red Weapons of Mass Destruction trailer. It was bizarre. A really bizarre scene. I thought, maybe they're evacuating from the coast. But the WMD trailer?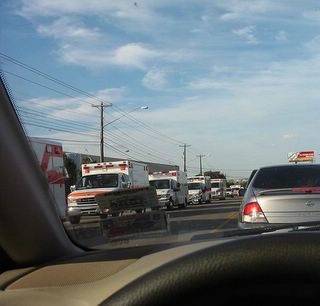 Ambulance convoy lining up southbound Lamar in north Austin as seen from my car


When I got home, I looked up that counties. Oldham is near Amarillo, which makes no sense, but Jefferson and Hardin are smack in the area where Rita made landfall. The WMD trailer makes sense if they're trying to get it out of the risk area. They have it there due to the large concentration of oil and gas refineries, which makes sense. It was a bit of a traffic stopper, but interesting nevertheless.

In Leander, there was no wind at all. It was hot. The sunset was beautiful. And ironically enough, I guess it takes a hurricane (although nowhere near us!) to get people out of there houses here. On my cul-de-sac, 3 families were out -- one playing frisbee, another hanging out and chatting, me taking pictures of the sunset and Sean climbing our limestone brick house. Now 3 families out -- that's a rarity here.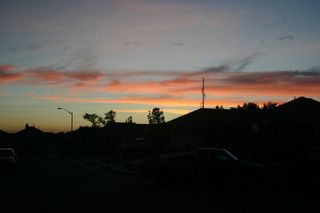 Sunset in Austin at about 8pm yesterday