Quilting for Katrina, Part 2
With all the craziness going on this past week, I forgot to log about the quilt I made for the
Linus Connection
to donate to a little Katrina victim.
Well, I made a simple block quilt. Now, momma didn't raise a quilter, and I learned a few things from the project! Making the top part was easy. The rest..eh..well, it was experimental!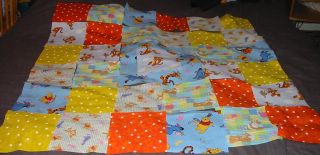 Arranging the top pieces out, trying to figure out what pattern I liked


Top is sewn together, pinning the top, batting, and underside together for machine quilting


Now my friends, above, I am demonstrating how NOT to do it! Quilters with experience use safety pins or string thread through and tie it. Me..well, I figured pins would work! It worked...but I stabbed myself about a dozen times!


Details on hand quilting around the clouds in the center panel


I hand quilted the clouds in the center panel. I put a piece of cotton batting below it to make it a little bit puffy, too.


Finished quilt, French binding with mitred corners


Tadaaaa! With this project, I learned how to make mitred corners and how to make homemade binding. The project took 5 evenings to finish.

I took it to the Bluebonnet Yarn Shoppe in Cedar Park last weekend to donate (they're a drop off center for the Linus Connection). I strolled around the shop, felt up some really soft and expensive yarns..um..I think I'll stay away from there until I know what I'm doing! There were a group of ladies hanging out and knitting. It's a neat shop, if only I knew how to *really* knit!