July 4th Wakeboarding Festivities
July 4th..ahh...a holiday. Long weekends are so nice :) What better way to celebrate than to wake up at the ass crack of dawn and go wakeboarding! ;)
Four swans swimming away as the sun rises before 7 am


Sean and I left the house at about 6:00 am to get to Walsh Boat Landing on Lake Austin. The regular festivities took place. Today, it was just me, Sean, Karyn, and Stef.

No need to bore you non-wakeboarders with the details (or my 'dull' writing for that matter >:p )..to sum it up, Sean worked on jumping, had some interesting wipeouts; I worked on hard edging between the wakes, had a few stout face-plants into the water; Stef and Karyn worked on surface 180s.

Here are some pics for entertainment value...


Sean - first to go in close to the dam


Me crossing the wake...sticking my bum out too much


Karyn getting a little bit of airtime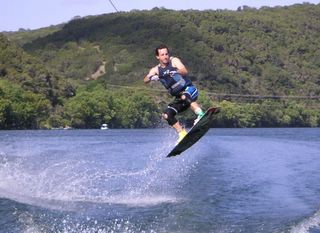 Stef getting high


Sean - learning to fly