Smackin' in the water
Today, Sean and I went wakeboarding with Stef, Steve, Dave, Karen, and her friend Ann. Sean and I got to the boat launch at the 360 bridge at 7am. We were the first there. Then Karen came, and then the guys showed up. Dave was kind enough to haul the boat - you know, fishermen and wakeboarders don't mix! ;)
Me at the 360 bridge

My feet, Sean's feet

Me and Sean at the 360 bridge boat launch


It was a cloudy morning, and we couldn't really tell if the clouds were going to burn off or if they'd produce storms. But we went anyways. Turned out to be a great day.

Stef, Steve, and Sean all went. I wanted to wait a bit..thinking..the longer I wait, it will warm up...warmer water...I'm a wimp, what can I say! Karen went, and then it was my turn. Brr, the water was cold...had a decent first run. I'm getting better at going straight, and slowly drifting in between the wake. Of course, I'm a bit chicken when it comes to crossing the wake. Well, I'll work on that later ;)


Me wakeboarding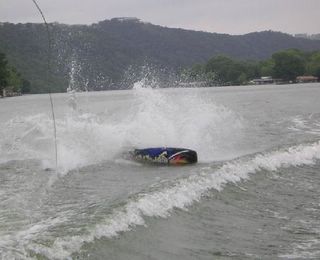 Nobody said wiping out was pretty! Yeah, that's me!


Up at it again


And wiping out again!


Oh yeah, and I dropped a wakeboard on Stef's foot (sorry, Stef!).

We picked up Ann around 9. Then it was Dave's turn. In the beginning of the trip, he said he was not going to do it. But then he decided to (peer pressure?). It's funny, because there's a whole range of people using the boards and stuff. I'm by far the smallest -- could use a kid's board and boots :p And Dave could use a bigger board. We make do :)


Dave's first run


Dave tried and tried, but did not get up. Yeah, learning is a bitch...I do remember that! Gotta give him credit for trying :)

Ann did not want to get in quite yet. Sean went next.


Sean wakeboarding in front of the 360 bridge


Sean cruising along


Sean letting go to early


Then Steve had a run. Steve is good. He does jumps and a few other tricks, like turning backwards for a bit, and flipping his board around. One day...one day...I just might be able to..um..cross a wake without fear.


Steve jumping the wake sideways...to a painful landing!


Then Ann decided it was time to try it out. She did pretty well..you know, the learning thing. She didn't get up, but you could see that she was feeling the force of the water against the board. A few more tries and I think she'll be able to get up.


Ann in action


The sun was out in full force. I had not sunscreened before. I thought..eh..it's just a day...not a big deal...

Karen had a long run. She's really good at staying up forever. She jumps one wake and goes about half way to the other.


Karen cruising along for the ride


Me, Stef, Sean, Dave, and Karen had another run before the end of the day.


Stef getting ready to jump the wake


Sean smiling in the frigid water...smiling because he had the hot tub action going on there? :p


Dave's second run


The day turned out to be really nice. Sunny like hell. We were all baked pretty well. I..well, I am sunburnt. And that does not happen very often!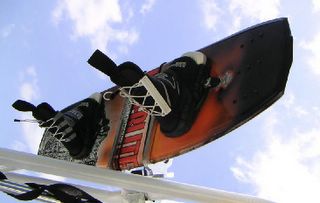 Wakeboard and the sunny skies


It ended up to be a gorgeous day on Lake Austin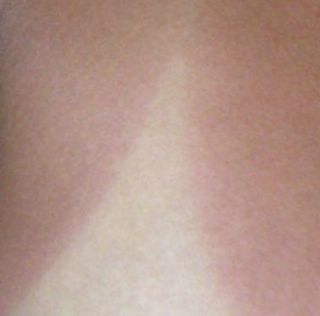 My bikini tan...can we say "OUCH"!!!