Inks Lake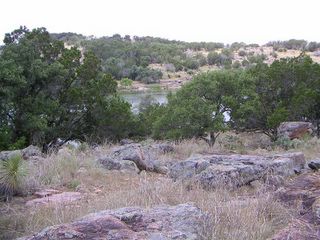 View of Inks Lake with granite outcrops


On Sunday, Sean and I took the pups for a hike at Inks Lake. We've got a Texas State Parks Pass, so we figured we could put it to use. Neither of us had been to Inks Lake, and the hike log on Austin Explorer looked interesting.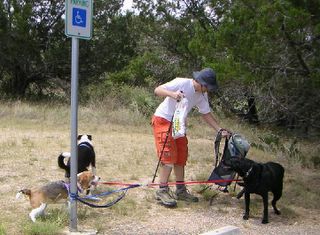 The pups slinged to the Handicapped parking sign while we get sorted


Like last weekend, we started out late. We were supposed to wake up early early..but we both wanted to keep on sleeping in. We got on the trail at about 12:15pm. It was a blazing 90 something degrees out. The weather report said the high was 99 for the day.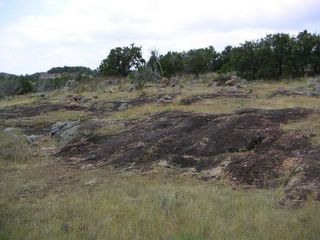 Granite outcrops on the trail


At the first Y in the trail, we headed right...not really looking at the trail map. Oops. That lead us to one edge of the lake, where Shadow was eager to jump in and start swimming and Bonnie followed behind him to wade in the water, while Belle 'climbed' some granite rocks.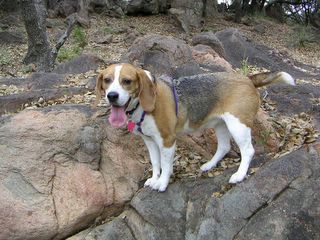 Belle doing a little rock climbing


We let the pups play for a while, then walked on and found a better entrance to the lake. Of course, Shadow went straight for the water. There were amazing granite outcrops near that area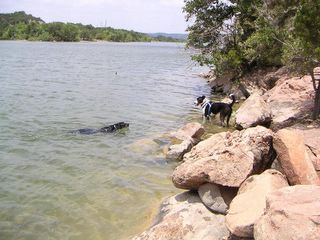 Shadow and Bonnie playing in the lake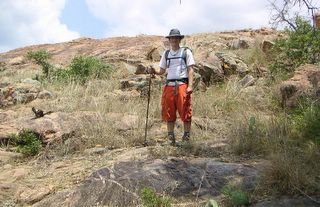 Sean in front of a neat outcrop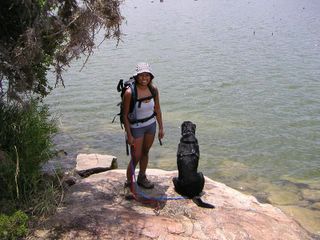 Me and Shadow


We hiked on, looked at the trail map and were like..um..I think we were supposed to veer left at the Y. So we went back over the outcrops and back to the Y, where we went the left route. We hitched the dogs to a tree so that we could explore a huge granite outcrop area. We sipped on Gatorade as the blazing sun beat down on us.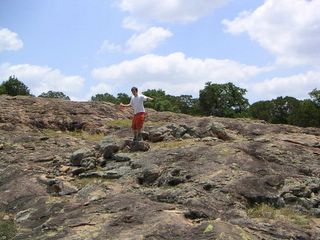 Sean rock-surfing


Me in the outcrops


We were back on the green trail and followed it around the edge of the lake, then took the shorter trail to the blue trail. We decided on doing a small loop, rather than a large one because of the dogs. As we learned last week, they're weak hikers so we have to introduce them slowly.


Inks Lake


Me at an overlook point


Shadow, Belle, Bonnie taking a water break in the shade


Then we hiked the short way along the blue trail to the red trail, where we found some fun boulders to play on. The dogs climbed up the rocks to the area. We would have kept them off leash, but they were just being too crazy, so we had to hitch them up..something that was quite an effort!


They wouldn't behave, so we had to hitch them up


To make a long story short, Sean climbed up the boulder, I climbed up an easy route..definitely a V0 on a flake..then Sean climbed, tried to downclimb, fell, I had a bad spot, got a slap to the chest and he went rolling down the rocks on his back, while I was yelling, "Oh my god, oh my god, oh my god" thinking that he would hit a rock and bust his head open, but thankfully, he stopped...only to have rock rash on his back. Phew! That was exciting!


I'm bouldering something easy..V0


Sean bouldering


Belle all worn out


After Sean's sliding halt, we decided to quit bouldering before we died, so we hit the trail again. Belle walked slower and slower, so Sean decided to pick her up for parts of the hike. Now that's a workout! He let her down, and she walked so slowly. Then he went to pick her up again, and her tail wagged out of excitement. When he carried her, Belle's legs dangled and she put up no fight. She looked like she loved it! We hiked for about a total of 3.3 miles.


Sean carrying Belle


Sean trying a new way to carry Belle..didn't work out though!