Comanche Bluff Trail - Granger Lake
On Saturday, Sean and I headed over to check out the
Comanche Bluff Trail
at
Granger Lake
. We took decided to take the dogs as well, to see how the fared off leash and on the trails.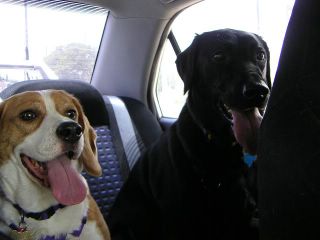 Anxious Belle and Shadow in the car


We got a bit of a late start going out there. We were going to to go Subway in Cedar Park to pick up sandwiches, but then noticed all the traffic in front of us. So then we decided to stop at the Subway in the Shell station closer to us (hadn't thought of that before..duh!).



Got caught by the Hill Country Flyer train!


Then in Cedar Park, taking the backroads to 1431, we got caught by the Hill Country Flyer. Luckily, it was this passenger train rather than a freight train...so it wasn't too bad.


Part of the adventure was seeing how Bonnie does in the car. She is prone to getting car sick. Shadow sits behind the driver and stares outside the window, Belle sits there and shakes out of fear, and Bonnie gets carsick. This park was quite a bit aways, a bit past Taylor.


We made a pit stop in Hutto and the dogs did nothing. Then we made a pit stop a few miles from the Lake. Bonnie's lower lip was puckering back, like she was going to vomit right then and there. We pulled over next to land and lots of cornfields. Sean took Bonnie out, and all she did was stare at the other dogs and me still in the car.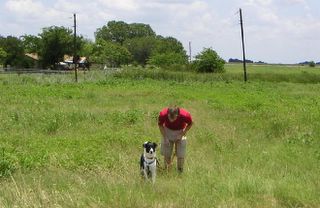 We thought Barfy Bonnie needed a pit stop


We finally made it to the lake, paid $4 to get in, then found the hiking trail. We had the dogs on leash for a while, until we cleared the parking lot and campgrounds. Then we let them off leash.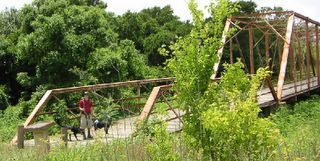 Sean, Shadow, and Bonnie at the Hoxie Bridge


It was a damn hot day. But needless to say, it was a pretty neat hike. I started the hike carrying about 23 pounds in weight (mostly water), and testing out my new backpack. We came across a few bridges -- old bridge that were salvaged from floods in 1921. The first one we encountered was the Hoxie Bridge, which was about 1/4 mile from the trailhead. The Hoxie Bridge was washed down the San Gabriel River by a flood. It was rumored to be haunted for a while, then some guy de-possessed it, or something like that.


Sean, Bonnie, and Shadow on the trail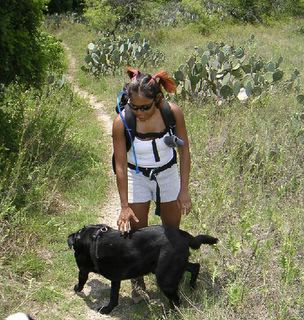 Me and Shadow on the trail with prickly pears


The second bridge we came across was the Friendship Bridge. Both these bridges are neat. I like bridges, I'm a dork, what can I say.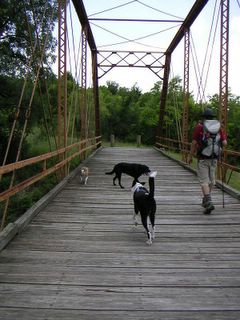 Belle, Shadow, Bonnie and Sean crossing the Friendship Bridge


Friendship Bridge


Much of the hike is covered by the shade of the trees, which was nice. It was about 96 degrees out that day. There are also open areas with plenty of cacti. A few streams cross the trail here and there, with smaller footbridges. Shadow took the opportunity to cool down in a muddy stream. He loved it. He could not settle down...he'd lay down, move around, then get up and adjust all over again. It was so hilarious, he was covered in mud! Bonnie went down to investigate and stepped gingerly into the muddy area.


Me, Belle, and a passed out Shadow


Shadow getting a mud treatment


We hiked on from there, with Shadow way ahead of us -- mud streaming off of his wagging tail. We then came up to a pile of driftwood scattered about. I'm assuming this was from some point when the lake was higher. It's actually quite soft and bouncy to walk on. From there, we diverted a bit to the lake shore. Needless to say, Shadow went straight for the water. He would have kept on swimming further and further out had we not called him back. Bonnie tiptoed into the water, while Belle explored the edge of the lake.


Granger Lake


Shadow and Bonnie in the lake


Sean and me at the lake


Also along the trail were plenty of spiderwebs. There were freakish looking spiders that we have never seen before. One looked kind of like a small crab (the shell part), but it was a spider. We stared at it for a while, checking out the dots on its body.


Webbed up plant on the trail


There was another stream and bridge. Bonnie and Shadow went to play in the water, and Belle walked around and sniffed everything.


Shadow and Bonnie playing in a creek


Me and Shadow on one of the bridges along the trail


We hiked on, encountered the San Gabriel River, and eventually walked to an open prairie area with cacti and a few trees. We took this as our resting point. Belle and Bonnie got large vicious sticker things in their paws, so we had to pluck them out. We rested for quite a while. The dogs were beat. They all laid down in the shade.


Break time! Sean hangs out with the doggies


Belle, Shadow, Bonnie and me on break time


We decided to turn around at that point. It was hot, and the dogs looked like they couldn't take anymore. Along the way, Bonnie started limping and lifting her right paw up. We weren't sure if she was being overdramatic (she's done that before, lifted one paw up, looked at us all coyly, then lifted her other paw up and gave us the same look..yeah, she's smart). But we pressed on and made it back to the trailhead. The dogs were so pooped.


It was a nice ride home. The dogs were all passed out. We made a pit stop at Dairy Queen and refueled our bodies with Blizzards...MMMmm!


Sleepy Bonnie resting her chin on the console of Sean's car