$8 Lowe Alpine Contour Mountain 40L backpack!!!
Yeah, I got a deal today!!! I went to the Leander First Saturday Flea Market/Garage Sale. I just wanted to rummage through old stuff. I love doing that.
I found a few old postcards..I don't know what I'll do with them, but they were 2 for 25 cents, and they're just neat and nostalgic. Also picked up some vintage Star Wars linens and a few pillow cases. Now the steal...was finding a Lowe Alpine Contour Mountain 40L backpack for $8. I looked at it..it looked either never used or *barely* used. Shit, it's got my name written all over it! Seems like more of a mountaineering style pack, but heck, it's got the hip strap as well as chest strap. It's mine!!! Wow, I could not believe that deal. And it's black. No ugly colors to deal with.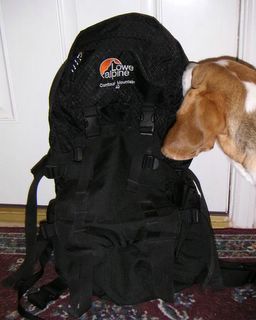 Belle investigates my new backpack