You guessed it..it was a Sunday, no rain..Reimers day!!!
Yesterday, Sean and I went to Reimers. Saturday proved to be extremely fucking hot! So Sunday was going to be the same...we decided on an early start.
We got to Reimers early in the morning. There were a decent amount of cars in the lot. We decided on going to Shortcake wall to warm up and to try the 5.9 and 5.10a routes that we tried last time. Then we'd move on to Prototype and see how we felt from there. We did the obligatory hike to the walls -- a hike down a spring fed creek - slippery at times, passing Sex Cave and Sex Canyon, staying to the left of the creek, passing through lush green ferns and such, then crossing the creek with a hop up to dry rock, hiking up a little bit to Shortcake Wall. That hike in always wears me out!!!
I started out by leading 'Got a Dollar?', a 5.7, for a warmup. Nice and easy. Sean followed and cleaned the route.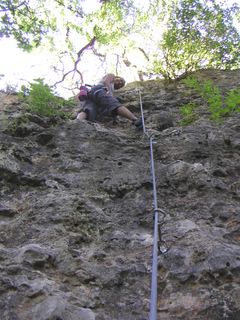 Me on 'Got a Dollar?', a 5.7


Next, we decided to move on to 'Hat Dance', a technical 5.9 that Sean had difficulty in leading last week. I'm not confident enough to lead this route quite yet. I'll work up to it...but not yet! So he lead the route. He did it, little difficulty and a smooth transition on the little traverse/transition spot. Then I toproped it, no problems, no rests.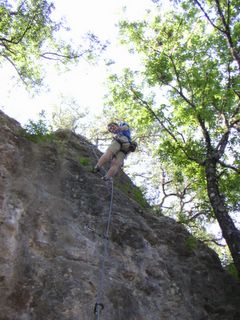 Sean on 'Hat Dance', a 5.9


Me cleaning 'Hat Dance'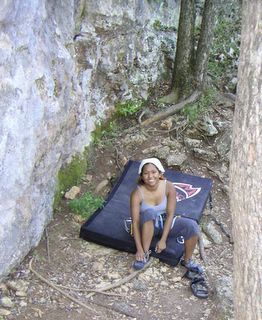 Changing into my Tevas after 'Hat Dance'


Just plain being goofy


Next up was 'Fat Chicks Tryin' to be Sexy', a 5.10a. Last time, Sean did not complete the lead..but once getting the beta from toproping it, he was determined to do it. Sean lead the route, found the secret crimpy holds at the crux, then pulled through.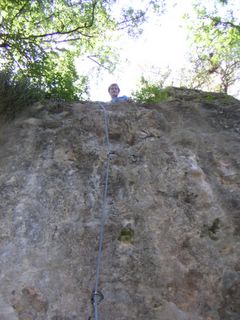 Sean at the top of 'Fat Chicks Tryin' to be Sexy', a 5.10a


I followed it, had a bit of trouble near the crux. The moves are so powerful for me, and my muscles are...well...small. :p So I rested once, pulled the move..stretch stretch..breath..breath..breath..grab! And then I pulled through the crux. Ahhh...After that, the route is a cake walk!


Cleaning the top of 'Fat Chicks Tryin' to be Sexy'


I cleaned the route as well. When I was slung in and off belay, Sean scrambled up the crag to the right of 'Hat Dance', and free climbed all the way to the top in sandals..to take pics of me. It was hilarious! And he got over the top of the rock, told me that there was a fence and the goats by the house! So he hopped over the fence, losing his chalk in the process, and took a few snaps. By then, I had finished cleaning the route and hung there by slings, while Sean looked down, wondered how he would strategically get down. It was entertaining. He made it down safely then belayed me down.


Cool rocks at Prototype Wall


Green stuff growing on the rocks


We packed our bags and headed past Dr. Seuss Wall on to Prototype Wall, to check out the famed "Eight Flake". Holy crap, this wall had some long routes on it!!! It looked somewhat intimidating. A few guys were doing a combination of Clone Call and Bisector, which shares anchors with Eight Flake, so we rested in the shade and watched the other climbers.


Sean lead 'Eight Flake', a 5.8 that goes up a large flake, then transitions to a small flake you can stick your fingers under. I followed and unclipped, no rests. That route was fun! But I still don't feel quite confident to lead it...yet. Let me toprope it a few more times! When I cleaned the route, my feet hurt so bad -- the wide part of my feet...I just wanted to take my shoes off and throw them down! They hurt that bad, I cleaned the route, grimaced in pain, cleaned...pain pain pain..when I got back to the ground, I ditched my climbing shoes for my comfy Tevas.


Sean on 'Eight Flake', a 5.8***


Sean pulling the rope so that I can unclip 'Eight Flake'


Me cleaning 'Eight Flake' - I've got my knees pressed up on the rock!


Rope art...I think Sean was bored while I was cleaning the route :p


Then Sean lead 'Clone Call', a 5.9 that goes to the right of the dihedral and up to the anchors of 'Eight Flake'. He did fine on the route. As for me..well..it was definitely not graceful. So..with 'Clone Call', I had trouble getting off the ground!!! (I was unclipping the route) I had trouble with the start...if only I was a few inches taller...yeah. So I tried, and tried, and tried, and tried, and tried...and finally, I got off the ground! Sheesh. What the hell, it's a 5.9, I should be able to do it! I was so wiped out after the initial start, and a bit demoralized, that I pieced my way through the rest of the route, panting all the way up. My arms jello. But once I got to the end, I was excited..yes! Finally! And I was pooped.


Sean on 'Clone Call', a 5.9 that shares anchors with 'Eight Flake'


Unsuccessful attempts at beginning 'Clone Call'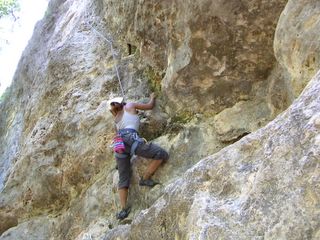 Unsuccessful attempts at beginning 'Clone Call'


Unsuccessful attempts at beginning 'Clone Call'..."TAKE!" not that I had anywhere to go b/c it was the bottom...


Sean then toproped 'Bisector', the 5.10a that climbs the face of the dihedral and shares anchors with Eight Flake. Of course, climbing the face was the difficult part. It bulges out a bit. But he pulled through the route. I was so worn out by then...I didn't even want to try it...especially after struggling with 'Clone Call'!!!


We left in the mid afternoon, and a fun boulder...


Hiking back on the wrong trail, we found a fun boulder to play/pose on!


Of course that pic is a posed one. I would never boulder with my tongue sticking out like that...if I fell..ouch! And I wouldn't boulder with a backpack on! :p


Sean and the cool boulder


Hydrating up at the end of the day!


Oh, the beauty of Reimers!!!


Beautiful Reimers scenary crystal clear spring fed pools with majestic tall trees