Wakeboarding on the river or "lake", as they call it!
Yesterday, Sean and I went wakeboarding with Stef, and Rob and Graham who are visiting from Cambridge. It was Graham's first time, and Rob and my second time going wakeboarding. On our way to the docks, we encountered a roadblock -- the Chuy's Hot to Trot 5k was going on, and Lake Austin Blvd was blocked at Red Bud Trail. So we took a left onto Red Bud Trail, a scenic road, and u-turned near Westlake Drive. We headed on to Enfield, a backway, to get to the boat launch.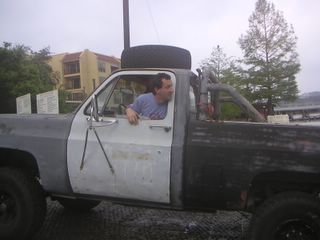 Stef in the Beast


We got there at about 7:45am (yes, early early early!!!), parked across the street, ran into Graham, then headed to the boat launch where Stef was getting ready to back up the Beast to put the boat in the water.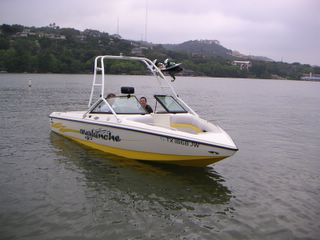 Sean and Rob in the boat..."How to I get this thing close to the dock?"


Sean was given the duty of backing up the boat and driving it. They got the boat off, and Sean backed it up and hung around the docks, while Stef went to park the Beast. Rob and I pondered if Sean knew how to get the boat close to the dock so that we could jump on. Or if we would have to make a swim for it! :p Sean worked it close enough to the dock, Graham and I grabbed onto the side, Rob jumped off and helped us..Stef came back after having an ordeal of parking (the Beast decided it didn't want to go in reverse anymore...), and we all jumped on.


At first, it was a very cloudy, slightly chilly morning. The water temperature was probably about 65ish. Brr. No one really wanted to volunteer to go first (I wanted to wait a bit..thinking..the clouds will burn off, it will get warmer...), so Stef was the first to go. Of course, Stef is probably more used to the water temperature than the rest of us are...maybe! He was working jumping the wake quite a bit. Pretty neat stuff. Will take me ages to get to that point!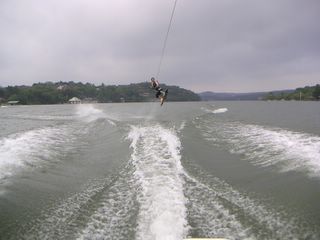 Stef getting some airtime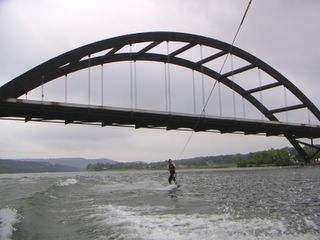 Stef wakeboarding under an Austin icon, the 360 bridge


We brought Stef in when the water got a bit too choppy. Then Sean was the next to go. He had a decent first run, although he said that he did worse than the time he went before (ages ago!).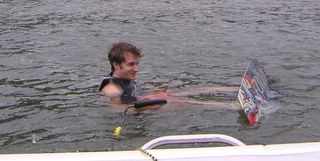 Sean in the brrrr....cold water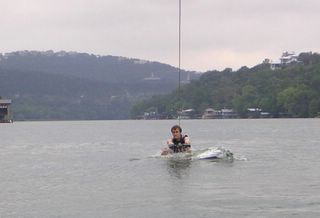 Sean starting his first run of the day


Sean wakeboarding..that's our house on top of the hill in the background...yeah, I wish!!!


Time to bring him in!


I was up next. Still cloudy, early, and the water was cold! I borrowed Sean's shortie because I am a cold water wimp (disregard my stories of canyoning down freezing cold icemelt waterfalls in Huaraz and taking cold showers in South America...). It was way to big for me, of course. And I used Karen's life vest, which is a bit big on me as well...duable though, they serve their purpose! Of course, I had forgotten how to do everything...like getting out of the boat and into the water, etc. Just the thought of the water...I wasn't sure how cold it was...I kinda didn't want to jump in! Stef helped me put the wakeboard on, I scooted to the edge, and jumped in...fuck, it's cold!!!


First run of the day...cold, cold, cold ass water...lifejacket and shortie floating at my ears!


Getting started...eyes peering over the board


I remembered how to get up on the board and go..and that was it. Last time (the first time I went) I did it, I was able to get up, and would always go all the way to the left side..but I couldn't figure out how to work my way to the middle or to the other side.


Got up on the first try..woohoo!!!


Only to fall soon after...


Help...I've fallen, and I can't get up! Retrieving the handlebar thingee from after a fall.


I fell a few times, had a few runs. It was great! And well, I stopped when I had a huge splashdown, face first into the water. *SLAP* I smacked into the water so hard, I immediately had a throbbing headache. When I got out of the water, I saw my forearms were red (I don't get red!) and tingling. Yup, time to take it easy.


Sean's James Dean/Marlboro man look...he's explaining something to Stef


Rob was up next. He initially had some trouble getting up on the board, but then got the hang of it. He also had a huge *SLAP* into the water that we all heard...ouch!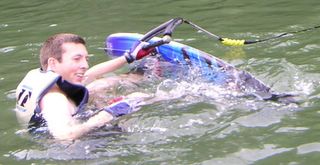 Rob's first run of the day...warmer than the water in Cambridge...but still cold!!


"Stand up" as we all yell from the boat..well, I have troubles with my bum sticking out as well...


When Rob came back, Stef gave some "on boat" instructions to Graham, as it was his first time trying it out. Oh yes, I remember how hard it was to figure out "getting up"...Graham persisted, with a permagrin on his face...trying and trying...then he said..okay, one last try...because Stef wanted to get back in the water!


Stef got in, naturally, working on more jumping wake skills. He also did some little bouncy jumps of to the side as well.


Wakeboard man Stef's second runs


Stef jumping the wake


Next was Sean for his second runs of the day. This time, he gave in and put on the wetsuit.


Sean's second runs...the windblown hair look


And then I was up for my second runs. I started to get suited up. Stef got a call from Karen, who was going to meet us back at the docks.


Getting ready for my second runs of the day


It was cold..cold...!


Sean ended up taking some video of me. Here are a few clips..couldn't load some of them because it exceeded my limit in Geocities or other sites...oh well:
Me letting go when I shouldn't have because I let go when I got wobbly, and the board still went...

Sean zooming in on his toes, then I fall

Had a decent run on the water, also figured out how to move around, rather than going all the way left as I usually do! I worked my way over from way left, to the middle, crossing one wake side..then hung out in the middle. I was too chicken to cross the wake. As I tried one time, I crossed it, then fell! It was fun! But then time to go back to the boat launch, and pick up Karen!


Sean hanging out...we're on our way to pick up Karen


We met Karen at the boat launch. Decided we were all hungry, then rode down to Hula Hut for a lunch break. Stef was refused as he needed shoes..so he ran back to the boat to get some. I mean, we were sitting outside on the patio and all...why shoes? Oh well. We ate lots of chips and salsa, queso, coconut shrimp, flautas, and tacos. There was a group of hula dancers at the tables behind us. Then they started playing music, and a few of them spread out and started dancing by tables. It was pretty neat...a bit odd...I asked one girl in the group what group they were with (out of curiousity), she mumbled something incoherent, then yelled, "Mom!" and that was that. So I never found out where they were from, why they were hula-ing, etc. Interesting.


Big fish at Hula Hut


Hula dancers at Hula Hut


Me and Sean outside of Hula Hut


Boat parking at Hula Hut


After lunch, we were all so stuffed, and could use a nap. Karen took to the drivers seat, and drove us to an inlet, cove, whatever you want to call it, opposite a golf course and the radio and cell tower littered hill across the river from Mt. Bonell. There was one boat there, a "sausage boat" as Stef called em - with three guys on it. We went down the waterway for a while, watching turtles sunbathing on rocks jump in the water as we passed by. Also passing by huge waterfront houses that probably cost somewhere in the multimillions...We went as far as a place where the inlet narrows, and to a restaurant...then we turned around and headed back.


Turtles on the rocks, wanting to jump into the water as we approached


A bird we saw


We anchored the boat close to where the inlet meets the Colorado River, near the 3 man sausage boat. It was pretty shallow there, since we saw one of the sausage boat guys wading/walking in the water, about waist deep, by his boat. Karen called her brother-in-law to come to the rescue. Since the Beast couldn't go in reverse, we needed a truck to pick us up! So we decided to take a nap and rest in that inlet. The sausage boat guys were blaring some hick-ish music.


Post lunch nap...Graham passed out, Karen and Stef in the front of the boat


Rob chillaxin'


Our little inlet soon became party central!!! A few small boats trolled around, anchored up as well. And blared competing music. It soon became "who has the loudest speakers". One big party boat came by, with what looked to be a bunch of teenaged kids, maybe celebrating a birthday party. They went down a bit, and kids started jumping out of the boat with noodle floaties. More small boats trolled in. Then came party boat #2 - a sausagefest for sure! There were about 8 guys on the top deck, meathead looking 30 year olds is my guess. One guy jumped off the top deck into the shallow water, while doing some flip in the air. Lucky he didn't break any bones :p His buddy on the top deck threw him an opened beer, which got into the water...would taste like lake water...hmm..not the smartest folks out here! They ended up getting two boats to tie up to their party boat - meatheads and blonde, bikini clad girls, of course. The girls automatically asked, "Is there a bathroom on this boat?" I guess that's a way to get the girls! More small boats came into the cove, blaring random music, and then Party Boat #3 came along - a house on water! It was called the KonTiki boat. Cheesy. And also, another sausagefest. The majority of the people on the boat were guys. It was definitely interesting to observe the boating/partying crowd!


Party boat #1


Only in Texas...cows by the party cove


Party boat #2 - along with dumbass doing a flip from the top deck into shallow water


Party boat #3 - "It's a house!"


Party central in our nap cove...more like a sausagefest!


After a while, we headed back to the river. We threw Rob in the water (not really) for a last wakeboard run. Then Karen's brother-in-law called and was ready to pick us up at the boat launch, so we called it a day. Good times, definitely good times.


Wakeboards