Toobing, Toona, and Too many things lost!
Yesterday, I met Ben from BnA fame..aka TunaJuice. Everybody's beloved fish! Sean and I met him and his friends up for a tubing trip down the Guadalupe River in New Braunfels. It was a good sized group to go out -- me, Sean, Ben, Brian and Ryan (roommates), Kristen, Erin, Clay and Loralie (sp) -- fiancees, Ana and Brent -- married couple...I think that was it! On the way down, we stopped at Rudy's for a quick bite to eat. Then headed off on the road.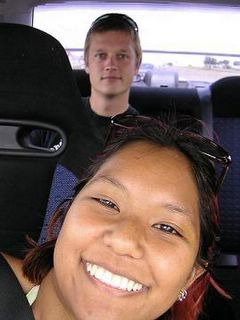 Me and Ben..I told him to smile! Driving to New Braunfels:p


I'll just make it a short story, because I'm too lazy to write a novel :p It was good times. Packed the coolers on tubes, cold river water, cloudy..ahhh..sun..3 fun chutes, lost a few people in the pack, caught back up, Ben lost his sunglasses, Loralie lost her shorts with ID and credit card (ouch!) and Toohey's hat, Ryan lost his Cubs hat, saw a girl get cuffed and arrested for a possible MIP and public intoxication, and then the river ride was over! Twas fun!

Afterwards, we hung out at Brian and Ryan's place, Clay lost his phone down the sewer in the apartment parking lot, ate pizza by the pool, jumped in the hot, hot, hot spa that was so heavily cholinated and hot that it killed any kind of bacteria out there!