Girl party!!!
Molly, Sarah's (my coworker) sister had a girl party at her house this afternoon. Boozing, hula hooping, food, and good ole fun.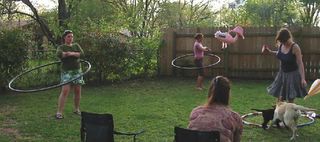 Hula hooping fun


I got there around 4:30ish. Met quite a few people - Elise -- Sarah and Molly's cousin, Chris - a girl who makes hula hoops and sells them, Melissa, Shauna, Ann and her cousin Erin, two Stephanies, etc. I hit the drinks first, then Molly passed out jello shots...hit the food table..man, there was some good food there :) Then we all headed outside.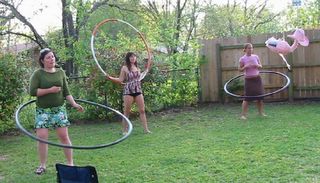 More hula hooping fun


Chris brought her 9 week old chocolate lab puppy, Miles...he was soooo cute! :) Rambunctious and playing with Molly's 1 yr old rescue yellow lab, Leon. Ada and her sister came by a bit later. Ada came to the party wearing a tee shirt that said, "I work for Dick". It was pretty hilarious.

We all hula hooped like crazy. Sarah had mastered working the hula hoop from her waist up to her neck, over her head on her arm and back. She also did quite an awesome job at hula hooping with one hoop, then bringing it up on her wrist, raised up above her head, and picking up another hoop with her other hand, and hula hooping with it around her waist.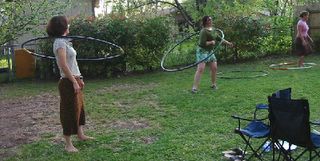 A few girls mastered hula hooping around their necks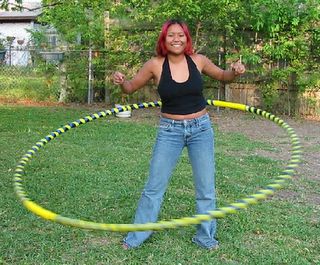 Oh gawd, I need to lose my belly!!!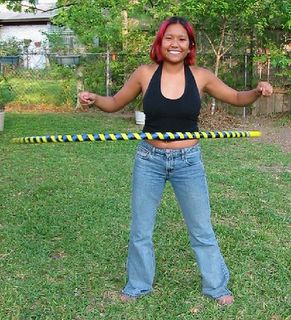 I wonder how good of a workout this is...


There was also a pink flamingo pinata hanging from a tree. Ada put her pink cowgirl hat on it..it was so perfect. :p


The pink flamingo pinata with Ada's pink cowgirl hat