Latest DIY projects...
My first knitted scarf!


So I finished my first knitted scarf today. Well actually, I had started one using size 7 needles, and it was just taking so damn long. Plus, it had quite a few holes it in (I was going to sew buttons over them to "disguise" the holes). I wanted immediate results! So I picked up a skein of extra bulky yarn and a pair of size 17 needles. I just did a regular stitch (I don't know the terminology), about 10 across? I finished it in a few sittings...not bad. And it's warm, fuzzy, and cute!!!


Modelling my new scarf


A while back ago..actually, probably about a month ago? I finished my crochet hat. It was that one that started off as the penis hat/nipple cover. I messed up on it, tried decreasing since the pattern called for a larger size than my head, then increased it back. It has a dent in it, but when I wear it...you can't tell.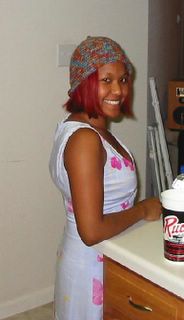 Modelling my crochetted (is that a word?) hat


It doesn't quite match my dress... ;)


I know I'm not really into the fancy schmancy yarns yet...just trying to learn and practice on the cheap acrylic stuff...but I went to visit the Bluebonnet Yarn Shoppe in Cedar Park that just opened recently. I've never been to a yarn shop before, and was just enthralled at the colors and textures of yarn surrounding me. It's a pretty cool shop! And damn, expensive nice stuff too. I found one skein that was $20! Ouch. I'll wait till I get much, much better at this before splurging on one of those skeins. Needless to say, it was a pretty neat place! If my sister ever comes out here, we'll be shopping there ;)