I Dream of Africa
I vowed to myself that from now on, I will leave the country at least once a year. That way, I can live my life at home, yet satisfy my desire to travel and throw myself in another world.
So for this year, I've got two trips slated. Argentina for late July-August, and Tanzania for Dec 23-mid Jan.
Yes, I said Tanzania.
I've decided to do something crazy. I'm going to summit Mount Kilimanjaro on New Years Day. Well, it's actually not *that* crazy. It's just a high altitude hike and requires no mountaineering experience...so..pending that my body gets used to the altitude, I should be fine. I dread altitude sickness...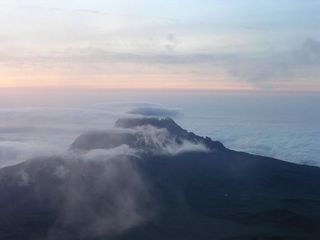 My friend Mike's pic from the summit of Kilimanjaro


I've been dreaming and thinking about this trip for a while. And now it's closer to realization...I put a deposit on for the trip. The first part of the trip will be the Kilimanjaro hike, the second part of the trip will be a safari to the Ngorongoro Crater, and the last part of the trip will be an island hop to Zanzibar for some fun in the sun and possibly a bit of diving.

I cannot help this desire...no...need to travel. It's in my blood.