One scarf down, one hat on the way!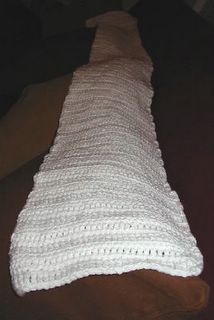 My scarf, finished! Now I need to dye it...

I finally finished my scarf last night. It's over 5 ft long (taller than me!). And well, one side is wider than the other...hey, I'm learning ;) I used all treble stitches in it. I seem to have that one down now! I'm planning on dying it, but since it's cheapo acrylic yarn, it'll be an experiment.
So I decided to take on another project. I'm going to *try* to make a hat from my book, Hip to Crochet. More cheapo acrylic yarn, since I don't want to waste the good stuff! But this time, it's a multicolored yarn, so if it turns out, I think it'll be cute. Another hat to add to my collection! I love hats :D
Here's a pic of the hat I'm trying to make from the book. And a pic of what I have done so far -- just the nub. It looks more like a nipple cover right now. Or as Sean says, a penis hat! Soon enough ;)
Hat I'm making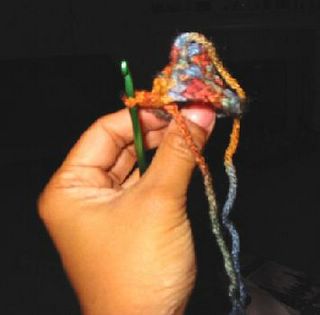 Nub of the hat/nipple cover/penis hat ;)